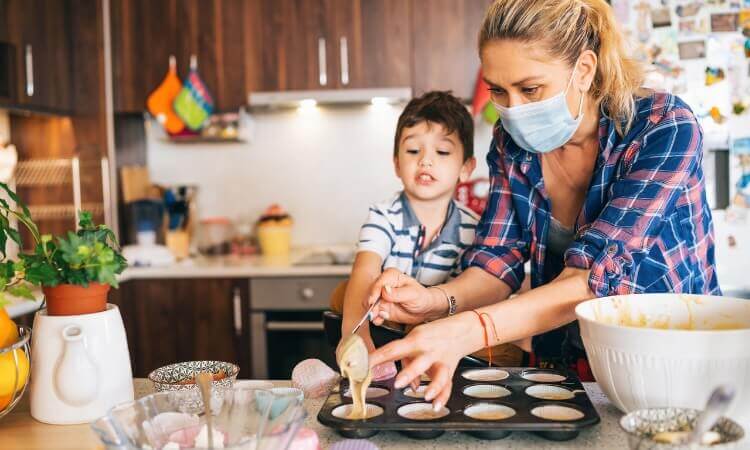 As a mom, you will do everything to bond with your kids. You can watch movies with them, play, eat, and even cook with them. If you're trying to teach them how to cook but don't know where to start, you can try out these delicious dessert recipes. In this article, we will share some easy desserts recipes that moms can make with their kids, like what Sandiego Moms has to offer.
3 Dessert Recipes that Can Be Made by Moms and Kids
Your kids are eager to learn how to cook or make desserts, so why not drop a few hints and let them join you in the kitchen? Maybe you should try to encourage them to know how to make something sweet, like a dessert. Check out these easy-to-make desserts for you and your kids.
Mango Cream Tart
Your kids will love how a simple mango you serve them would turn into a fresh, healthy, and luscious tart. How much more if you share with them your secret to making it tasty? You only need an oven to make this. To start with:
Preheat the oven up to 350 degrees. Once it's warm enough, put the cookies, melted butter, and almonds in the blender or food processor. Press the bottom and top sides of the best tart pan you're using and place them on a baking sheet.
Bake until the crust turns into golden brown from 12-14 minutes. Once it's done, cool it on a wire rack. Simultaneously, fill in a small bowl, beat the whipping cream until it's soft enough. Also, beat cream cheese and a cup of honey in another bowl. Fold in the whipped cream and spread all over the crust.
To make the glaze, mix preserves and the remaining honey in a small saucepan. Stir and cook it over low heat until it melts, then press through the strainer. Toss the mangoes with lemon juice and arrange the slices over the filling. You may also add blackberries and strawberries to make them look attractive. And once it's done, store it in a refrigerator so it would be ready to eat hours after.
Ice-Cream Cookie Crunch Sandwiches
Your kids will love this, as these ice-cream sandwiches are a great party food idea. You may make use of that shop-bought ice-cream and cookies to make it your kids' favorite. You have to roll them in chocolate chips for a dessert and sprinkle it with rainbow effects if you want. Doing this is pretty simple; you have to:
Put ½ cup ice-cream on a flat side of the cookie. It's good if you use chocolate or vanilla ice-cream flavors to this.
Now make a sandwich by putting another cookie on top of the ice-cream. Roll the sides of the sandwiches in choco chips or rainbow sprinkles.
Wrap it tightly in a plastic wrap and freeze it for at least 1 hour before serving it. Once it's frozen, then your kids can eat it already.
Healthy Apple Pie Bits
Of course, your kids will love this tasty apple pie sandwich treat. This is very easy to make, as you only have to let your kids assemble it, and surely, they will have fun doing it. The only ingredients to make it are low in fat, salt, sugar than a traditional apple pie. Also, prepare biscuits for the layering. Here are the quick and easy steps to follow:
Preheat the oven up to 180 degrees Celsius. Once it's heated, core and peel the apples, cut them into 5mm slices, place them on a lined baking tray, and let it bake for 15 minutes.
Allow it to cool for about 5 minutes and while waiting, assemble bites through layering the biscuits, slices of apple, yogurt, honey, cinnamon, and another biscuit on top. Let your kids put their apple pie for a more fun activity.
Conclusion
Nothing beats teaching your kids some easy and quick recipes while they're young. Since desserts are affordable and very easy to make, your kids will love the idea of helping you out and making it their own. It's no longer preparing for kitchen toys because letting them learn is one way of training them.
One day, you will realize how lucky you are for training them at such a young age. It encourages them to come out of their shells and cook delicious dishes one day.