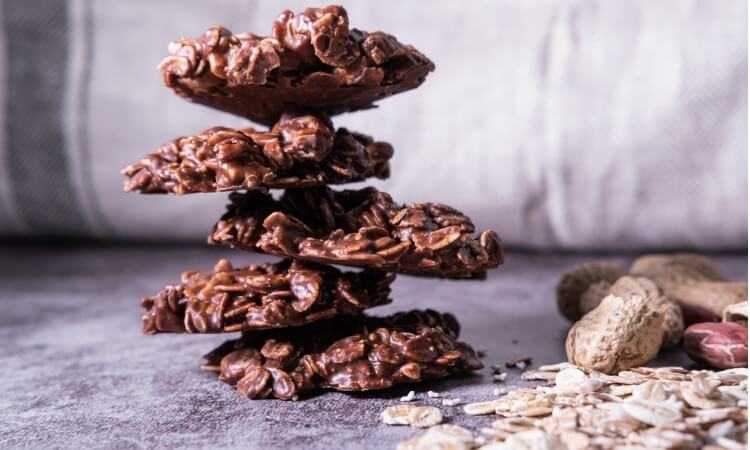 Have you ever heard of a no-bake cookie? Others call it preacher cookies. They are also called peanut butter delights, boiled cookies, and "chocolate oaties." But no matter how you call them, these little dollops of chocolate and peanut butter heaven are delicious desserts. And surprisingly, it only takes a few minutes to make these cookies! Let me share with you some insights on how many calories in a no bake cookie.
What are Calories?
On the nutrition side, all types of food are essential sources of calories, which we need to live and function. On how many calories you need in a day depends on your activity level and inactive metabolic rate. If you are interested in losing weight, you should consider how many calories you are taking in and how many calories you do need every day. When we talk about cookies, how many calories in a no-bake cookie is present?
Classic No-Bake Cookies Recipe
These classic no-bake cookies require a few simple ingredients only and are amazingly easy to make. These cookies are ideal for an easy dessert, loaded with peanut butter, oats, and cocoa powder.
Prep Time: 40 minutes
Cook Time: 5 minutes
Total Time: 45 minutes
Servings: 30 cookies
Ingredients
1/2 cup butter, cut into pieces
2 cups granulated sugar
1/2 cup milk
1/4 cup unsweetened cocoa powder
1/2 cup creamy peanut butter
1 teaspoon of vanilla extract
3 cups (300 grams) quick-cooking oats
Steps
Have all of your ingredients available and measure everything out. Line two large baking sheets with parchment paper and set them aside.
Place the butter, sugar, milk, and unsweetened cocoa powder in a saucepan and heat over medium heat. Make sure to stir it often until the butter melts and everything is combined well. Bring the mixture to a rolling boil and allow it to boil for 60 seconds. Stir it occasionally.
Remove the mixture from the heat. Stir in the peanut butter together with vanilla extract until they are thoroughly mixed. Stir in the oats and mix evenly until all of the oats are coated with the mixture. Make sure that everything is combined well.
Drop servings of the mixture onto your prepared baking sheets. Ideally, use a two-tablespoon cookie scoop.
Allow to cool for 20-30 minutes and serve. With its delicious taste, you will ever forget to care about how many calories in a no-bake cookie is present.
Calories in No-Bake Cookies
I have provided the number of calories per ingredient in this no-bake cookie recipe. How many calories in a no-bake cookie is present? The calories per serving of no-bake cookies are 98.7, based on the above recipe. Here are the foods from food the nutrition database that were used for the nutrition calculations of this recipe:
53 calories of Granulated Sugar, (0.07 cup)
30 calories of Quaker Oats – Quick 1 Minute – Dry, (0.10 cup)
9 calories of Peanut Butter, smooth style, with salt, (0.10 tbsp)
3 calories of milk, 2%, with added nonfat milk solids, without added vit A, (0.02 cup)
1 calorie of Cocoa, dry powder, unsweetened, (0.10 tbsp)
1 calorie of Margarine, hard, (0.03 tsp)
0 calories of Vanilla Extract, (0.03 tsp)
Baking Tips for Classic No-Bake Cookies
One thing that you will love about no-bake cookies is how easy they are made. You can prepare one batch of these in only about 15-20 minutes, then all you have to do is to wait for them to cool before you indulge eating. This dessert makes an ideal go-to recipe when you're short on time or want something easy to make.
If you wonder about its ingredients, you probably have every ingredient available to make these cookies right away. Before you get started making the cookies, get all of your ingredients ready, and measure them out. This is the trick to make the process go much smoother. Remember that the quicker you get everything combined after the mixture has boiled, the better the cookies will turn out.
Also, take note that the hardest part of making these cookies is the waiting time for them to cool. It's so tempting to have those cookies, especially when you make it for the first time. You may even forget how many calories in a no-bake cookie is present.
Conclusion
Cookies are delicious. The fact that there are healthy cookies makes you feel not guilty about your want for sweets. After knowing how many calories in a no-bake cookie is present, I guess you will love this healthy cookie, making it your new favorite dessert. Go ahead and try the recipe. Know more about cookies.