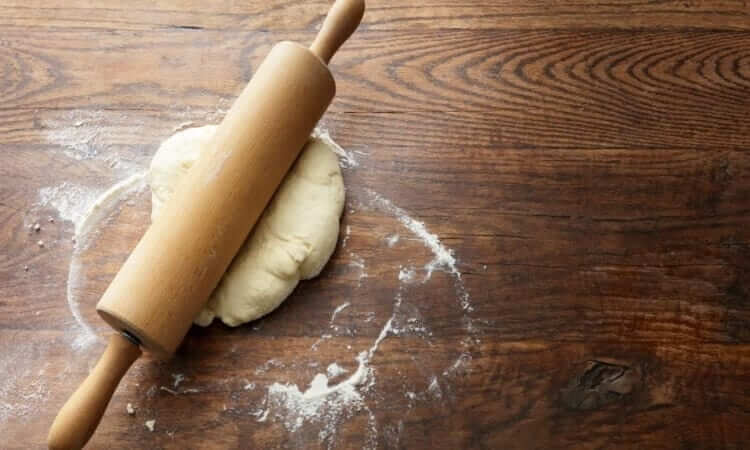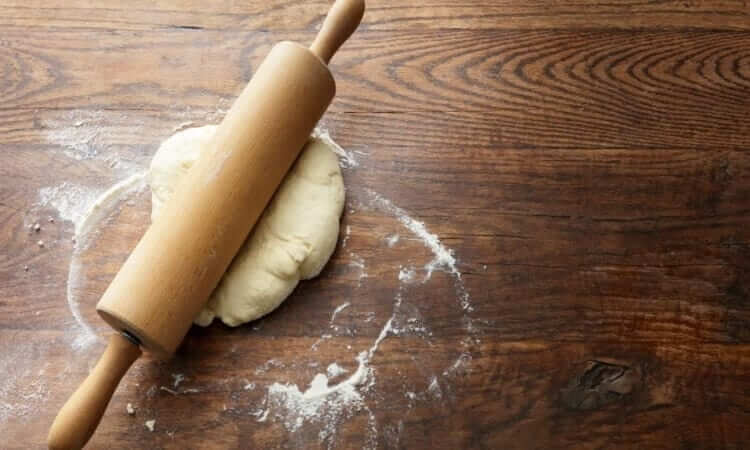 Like a handy wooden cutting board, the best wooden rolling pins are made of untreated, well-sanded hardwood such as rock maple. They're very durable, and most bakers use them since they last for a long time, especially when well cared for. If you want to know how do you clean a wooden rolling pin, then you've come to the right place. We'll share with you four easy steps to make your rolling pin squeaky clean again.
Here is the Step by Step Guide on How do you Clean a Wooden Rolling Pin:
Rub off any bits of stuck-on dough. To keep your rolling pin steady, hold it vertically with one end resting on your countertop. Hold the bench scraper at an angle to the rolling pin, and start scraping down the side. Turn the rolling pin and continue to rub, continually with downward strokes, until you've removed all of the bits of dough and flour.
Scrub the rolling pin clean. With the damp cloth, scrub the rolling pin thoroughly until it's spotless, and no residue remains. If it's still quite dirty, you may have to rinse out your cloth once or twice and go over the rolling pin repeatedly.
Dry completely. Use a dry and clean dish towel to remove any excess moisture from the rolling pin, and let it dry.
Oil the rolling pin. Oiling your rolling pin regularly will increase its lifespan. Considerably, it also keeps the wood conditioned and prevents cracks from forming. Pat a few drops of mineral oil or into a dry cleaning cloth, then rub it generously into the entire surface of the rolling pin. Allow it to dry out on the countertop for an hour or so, letting the oil absorb into the pin completely before storing it.
Other Considerations
After learning how do you clean a wooden rolling pin, try to also keep in mind a few other things when cleaning your wooden rolling pin:
Don't use soap. Soaps tend to strip the wood of its natural oils, decreasing the life of your rolling pin and even leads to cracks and other damages.
Do not leave your rolling pin soaking in water. Even if you've got bits and pieces dough stuck on your pin, it's still a much better idea to scrape and scrub it off rather than to soak your rolling pin. Soaking can cause the wood to bend, wrinkle, or crack. Additionally, if you've got a rolling pin with handles and metal parts, the metal can rust easily when soaked since there is no way to get the inside of the pin completely dry.
Frequently Asked Questions
Is seasoning my rolling pin necessary?
Many professional bakers prefer to season their wooden rolling pin to promote longevity. However, it's not a must. If you know how do you clean a wooden rolling pin correctly, then you may skip this part. However, if you opt to, you can use a small dollop of food-grade mineral, butcher block, or salad bowl oil, to lightly wipe the entire surface of your rolling pin. Keep in mind that the handles need not be seasoned.
Do not use vegetable or olive oil to season a wooden rolling pin, as these can turn stale and can add unwanted flavors to your baking. Also, avoid using other oils that are not certified as food-grade. Mineral oil is generally safe and can be bought readily at any pharmacies of supermarkets.
If you do opt to oil your rolling pin, you do not need to do so after every use. Seasoning once a year should be enough unless you use your wooden rolling pin more than twice in a week.
How do I get rid of molds?
Unfortunately, mold can be the end of any wooden utensils and rolling pins. Though bleach can kill some of the molds, there's no assurance that it will get rid of all of the mold spores hiding inside the surface of your wood. The stains mold leaves are also tricky to remove without sanding or using harsh chemicals, which are just as harmful in your wooden rolling pin as the mold itself.
How do I fix a cracked rolling pin?
In some cases, a crack in your rolling pin can be repaired. You'll only need food-grade mineral oil and a clean cloth. First, clean and dry your rolling pin completely. Then apply mineral oil by rubbing the rolling pin with an oil-soaked cloth. It should restore the wood's original moisture and cause it to expand, closing the crack.
For wider cracks, you may need to see a wood repair expert. However, these services might be a bit expensive and hard to find, since the cost of replacement kitchen equipment goes down continuously. Nevertheless, if you own an antique or heirloom wooden rolling pin, it may still be worth the expense.
If your pin is beyond repair, you don't need not throw it right away. Wood has a quality all its own, and many people enjoy decorating using wooden antiques. You can use your pin as a wall accent, or sell it to antique shops if it is old enough.
Conclusion
A wooden rolling pin is a kitchen essential. Especially if you're into breads and pastries, it's something you won't be able to live without. Buying a pin every now and then due to poor maintenance can be expensive in the long run. So knowing how do you clean a wooden rolling pin, along with other maintenance guides, can help you prolong the life of your reliable wooden rolling pin. Know more about rolling pins.