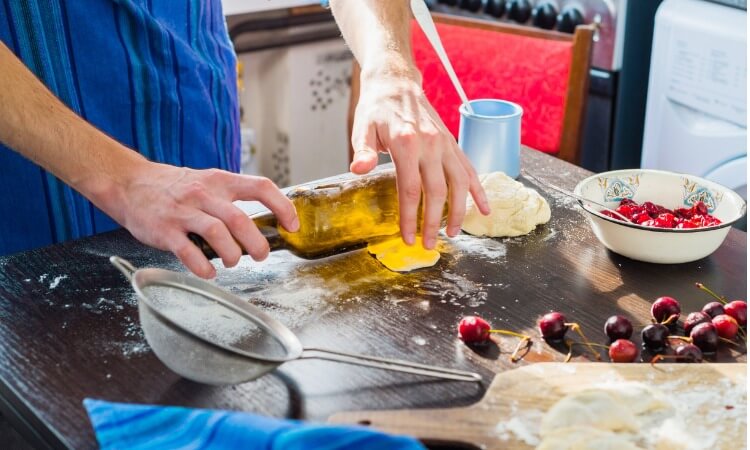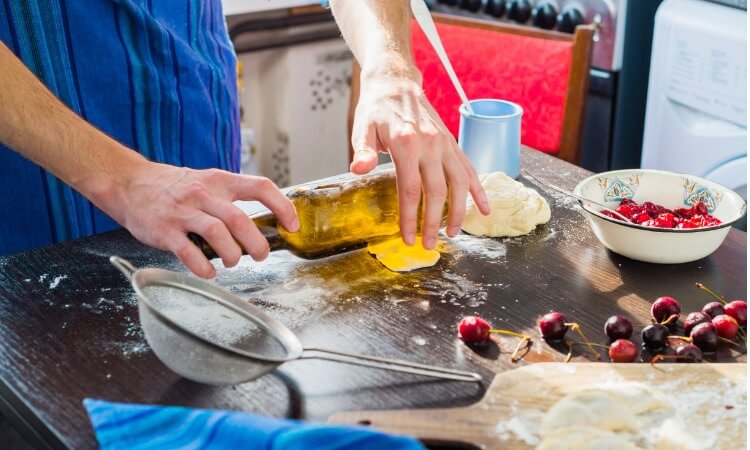 Baking would never be complete without a rolling pin. It's one of the essential bakeware that every baker should have. Rolling pins are mainly used for flattening and shaping the dough. It gives you complete control of the texture and the thickness of the dough. But what if you don't have a rolling pin? What to use instead of rolling pins?
What is a Rolling Pin?
A rolling pin is a long cylinder-shaped kitchen tool that is used to roll out many types of dough when baking food items such as cookies, pastries, and bread. It is also used for tearing apart the crackers and breadcrumbs. Rolling pins are made from different types of materials such as ceramic, wood, marble, glass, porcelain, brass, and copper. However, wood is the most popular.
Rolling pins also have different sizes and styles, but the normal rolling pin is usually the most common because it's the easiest one to use. It has handles that were carefully attached to a rod that runs through the center of the pin. This allows the pin to roll freely of the handles.
Objects to Use as Rolling Pin Alternatives
We know the importance of rolling pins in the world of baking. It's greatly needed to make a perfect coating of your pizzas and pies. If you haven't owned it yet, don't worry because I will share with you about what to use instead of rolling pins. There are things that you can use as a rolling-in substitute, and here's the list.
Wine Bottle
Many of us have likely stored wine bottles at home. If you do not have rolling pins and you want to know what to use instead of rolling pins, another alternative is wine bottles. Wine bottles, may it be long or just a half is ideal in flattening a pastry dough. In keeping your dough firm, you can have your wine bottle chilled and use it.
If you are afraid that your wine bottle might be carrying possible bacteria or dirt into what you are baking, cover your dough using a paper or plastic wrapper. This way could also prevent your dough from getting into the bottle.
However, if you don't have parchment paper or plastic wrap, disinfect or sterilize the outer parts of the wine bottle and get rid of the tag if it keeps on sticking out. Right before rolling the bottle, put some flour to prevent your dough from sticking to the bottle. Once you are sure enough that it's safe to use the bottle, and then you can use it already to flatten your dough.
Drinking Glass
An additional substitute for a rolling pin is a drinking glass. Tall drinking glasses are preferable to roll your dough for baking. Take note that the side parts of the glass should be even enough so that your dough comes out to be good. It must be heavy so that it will not get broken when you put on the pressure while you roll it.
Cylinder-Shaped Thermos
A thermos that you used to bring with you at work or in school can also be an interesting object to work as a rolling pin. You can use thermos if the sides are smooth so that it can squash the dough nicely. The technical use of any even-sided thermos is acceptable as long as it is cylindrical-shaped. It's better if the thermos is long for rolling.
You can keep the water from dripping using its protected lid. You just got to see to it that you clean or disinfect the thermos so that it's free from any bacteria and dirt before you begin using it as the rolling pin. You can keep your dough sticking from the thermos if you sprinkle the thermos with flour.
Dowel
Since a common rolling pin is made of wood, the closest object that can be a substitute to a rolling pin is a wooden dowel. Dowels are at least one inch in diameter, and the appropriate length must be about 19 inches to give better rolling. As compared to other rolling pin alternatives, the dowel can get you controlled pressure in rolling. Even if this may be perfect for soft bread dough and pie, dowel may not work for chilled or hard dough.
Beverage Cans
If you want to know what to use instead of rolling pins, if you do not have one, then the soda can is another substitute. You must have need beverage cans that are not consumed or still filled with liquid. This is to keep it strong and sturdy enough when rolling and flattening the dough. Empty beverage cans may not give you enough pressure to achieve your goal, because it will collapse when you put pressure on it.
Conclusion
If you don't have rolling pins in your kitchen, worry no more because there are so many objects that can be used substitutes. These five objects mentioned in this article are the best choices on what to use instead of rolling pins. You can find these in your kitchen or somewhere in your house. What's important is the convenience and the chance to bake your favorite pastries or bread.
Just remember to clean or disinfect the objects before proceeding to roll out your dough so that the dough won't get any dirt or bacteria. Plus, cover your dough with clear plastic or cover the substitute itself. Get more tips on using rolling pins.