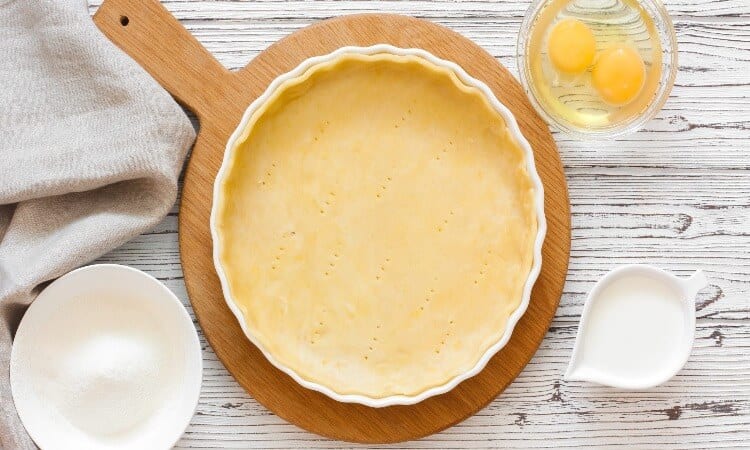 If you experienced baking in a tart pan, then you should know that getting a tart out of a tart pan is a really critical and very stressful step. This can make or break your tart recipe. If you're new to baking tarts, then this is your lucky day! We'll teach you the proper ways on how to use tart pan, whether you need to grease them, how to line them with your dough, and how to remove a tart from a tart pan without any stress at all.
What is A Tart Pan?
Tart pans and pie plates are totally different products. Pie plates are shallow and have an angled edge with a wider rim. On the other hand, tart pans have a straight, vertical edge and often don't have any kind of rim. Most of the time, the sharp edge of the tart pan is used to trim the dough to fit the mold exactly.
Many tart pans have a crinkled or fluted edge, but some may have a straight edge. Some tart pans come in one piece, and others have two parts. Most are also shallow, although quiche pans are deeper pans, allowing more room for filling.
The type of tart pan you use is completely dependent on what you are baking. Your knowledge of how to use tart pan can help you achieve your desired results. If you are pouring a fluid batter into your tart pan, go ahead and reach for a one-piece tart pan to avoid leaks. On the other hand, if you plan on baking a tart with a crust that you would like to remove from the pan when you serve, this is when you need a tart pan with removable bottom.
How to Use Tart Pans
Tart pans usually come with a non-stick finish, so you need not grease them. It ensures easy unmolding and removal of tarts. However, if you're not confident with the tart pan that you have, you can always opt to grease and flour the tart pan first to guarantee that your tart will come out of the pan after baking. Do follow the recommendations on how to use tart pan written in your recipe.
How to Fit Dough into a Tart Pan
There are two main ways to fit a dough in a tart pan:
For delicate, shortbread cookie crusts, for graham cracker crumb crusts, and Oreo cookie crumb crusts:
Pile the crumbly batter into the pan and press it until it forms an even layer of dough. It is the easiest way to line the pan with your batters, but always make sure to press the dough crumbs firmly into the pan to form a firm base and sturdy edge. You can use your fingers for this step or a flat-bottomed glass to help make the bottom of the crust flatter and even throughout.

For a sturdier dough:
Chill the dough for about an hour after it's made, then flatten it out on a lightly floured surface. Roll the dough until it's about 2 inches bigger than your tart pan. You might need it to make it even larger for deeper tart pans. Once rolled out, fold the dough in half, then gently slide the dough into your tart pan. Unfold the dough and smoothly work the dough into the nooks and edges of your pan. You must get the dough nestled into the corners of the tart pan to avoid any shrinkage during baking.

Once you've covered your tart pan with your dough, keep in mind never to take the pan from underneath because the removable bottom might lift and break your dough. We recommend always to place the tart pan on a cookie sheet to make it easy to transfer the tart from the counter to the fridge or the oven. This way, you avoid any possible accidents.
How to Remove Tart from a Tart Pan
Find a robust and free-standing object that is slightly smaller than the hole at the bottom of the tart pan. You can use a small inverted metal mixing bowl for full-sized tarts, or small drinking glass or even a large shot glass for mini-tarts. Place the tart on your chosen object, and carefully slide the ring of the tart off and down the stand. Then take down the tart and slide the tart off the bottom round and into a plate. Knowing how to use tart pan is crucial to avoid any kitchen mishaps.
Additional Tips and Tricks
Opt for a tart pan with a removable bottom. The good quality ones are heavy duty and come with a non-stick finish, which is a little extra security if you are worried about your tart sticking to the pan. Although they can be more expensive, they are still worth every penny for the convenience they give.
Butter or flour your pan depending on the kind of dough you are working. If you aren't sure, just do so in case.
Let the tart cool entirely if possible. Warm tart shells are more fragile, which means there's more risk that they will break and crumble apart when you unmold them.
Wrap Up
Tart pans are kitchen essentials. They make perfect, decadent tarts which people of all ages enjoy. However, if you are a baking rookie, you mind find using them a bit challenging. It takes a lot of practice and trial and errors to perfect the art of baking tarts. Equipping yourself with the knowledge on how to use tart pan can also be beneficial. We hope that the tips above will help you become more confident when tart making. Good luck and Bon Appetit! Know more about tart pans.