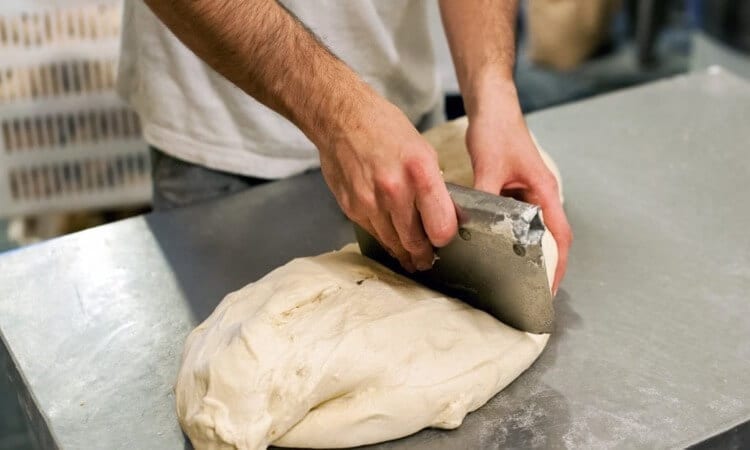 Dough cutter is a kitchen baking tools. It could be used to cut ingredients and dough. Some cutters are also useful for scraping batter or mixture to create a dough. It comes in different designs. And each design has different usage. So, you should know how to use a dough cutter. This cutter has an edge that serves as a blade that specifically made to cut dough. Some people called it a bench knife.
Find out the basics about the dough cutter in this article.
How to Use a Dough Cutter?
Cutting dough may be something that you might think to be an easy task, but once you are on it, it will be hard to perform them. So, how to use a dough cutter? We would always see professional bakers and chefs use dough cutter. It looks like they are really used to it and became part of their baking career.
A dough cutter is technically used to cut dough for baking, whether it is for bread or cookies. They come in different shapes and kind. It can be single-bladed or multi-blades. Depending on what you are baking, you need a special cutting tool to simplify baking tasks, thus the dough cutter.
When you are baking, the first step would be to gather the ingredients, mix them based on the mixing instruction on the packaging. After you have mixed everything and make the dough, sprinkle an adequate amount of flour to the surface where you may place the dough. After that, knead or flatten them with a rolling pin. Once you have reached the ideal thickness, you can start slicing it with your dough cutter. But before doing so, you must rub some four to the edge so it will not stick.
Plastic Dough Cutter
Some dough cutters are made of plastic. But if you decide to pick the plastic ones, you must consider the type of plastic it is made of. It should be safe to use for food or BPA-free. And since different plastic cutters have different characteristics, you must know how to use a dough cutter that is made of plastic.
Advantages of Using Plastic Dough Cutter
It cannot scratch the surface of the materials where you place the dough.
You can use it to mix dough then cut. It is multipurpose.
Plastic cutters are affordable.
They have soft edges making it harmless to touch, especially if you are working on cookies with kids.
They are easy to wash.
Disadvantages of Using Plastic Dough Cutter
Plastic dough cutter may peel from the edge.
Depending on the type of plastic, some can be toxic.
Some plastic may easily peel off after a few uses.
Metal Dough Cutter
Professional bakers know to use a dough cutter that is made of metal. These people prefer metals because it is easier to cut dough with sharp edges. When we say metal, it would mean tin, aluminum, copper, or stainless steel. Many cutters are made of these metals, and others may be a combination.
Advantages of Using Metal Dough Cutter
They are sharp enough to handle the heavy dough.
Some metal cutters are inexpensive, but copper cutters are mostly costly.
They are very pliable.
Metal cutters are sturdy and will not deform easily.
Disadvantages of Using Plastic Dough Cutter
Metal dough cutters can be too sharp. They are not ideal for kids.
Some metal dough cutter can get rusty, especially tin and stainless steel.
It needs to have a good handle for comfortable use.
It must be handwash.
Preserving Dough Cutter
If you know how to use a dough cutter, you must also know how to preserve it.
Depending on the materials of your dough cutter, you must clean it thoroughly before keeping it in a container or cabinet. Manufacturers usually indicate on the package if the tool is dishwasher safe or not. If it is so, follow the correct guidelines in using the dishwasher. Otherwise, when you clean it by handwash, you must not use harsh detergent to prevent damaging the board of the cutter. If you need to rub them, use soft sponge or cloth. Do not soak in water, especially steel cutters. Once you are done cleaning it, rinse thoroughly and set aside to dry, or you may wipe soft cloths to remove excess liquid.
Conclusion
Learning how to use a dough cutter means you understand how it works. You will also understand why certain criteria for dough cutters should be met before you get one for your kitchen needs. As you go along with your journey on baking, you will know how important it is to consider the type of cutter and the materials it is made of. You will also learn that getting high-quality cutters are a good investment to high-quality pastry products. Find out more about dough cutters.