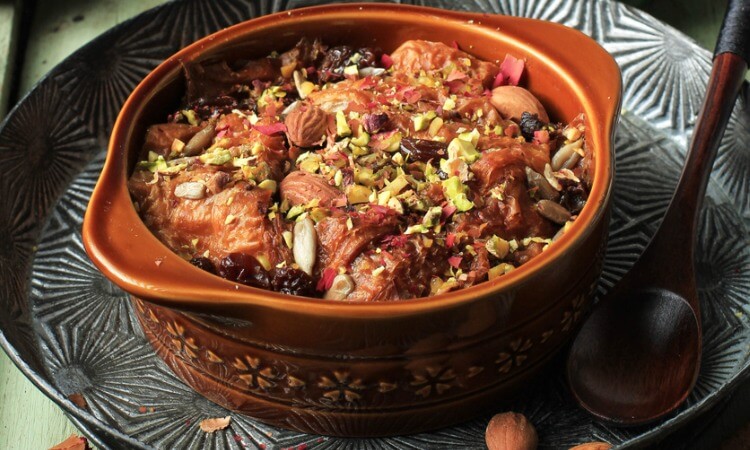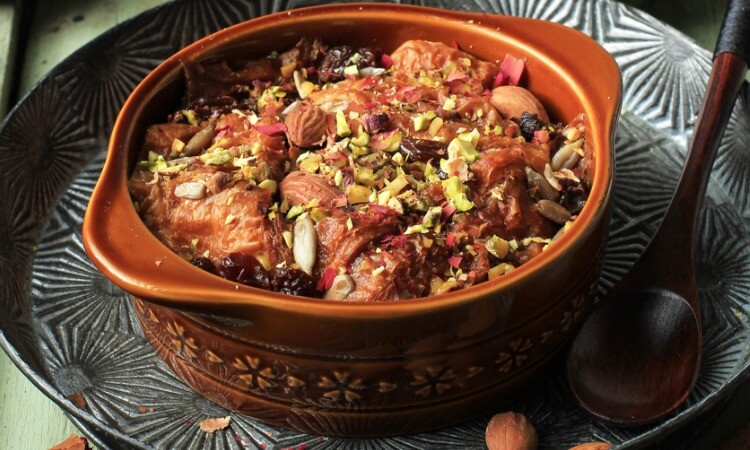 Do you plan on visiting the Middle East and try their cuisines? Just so you know, a lot of popular desserts come from Arab countries, which locals and tourists could vouch for. If your sweet tooth is aching up for some Middle Eastern desserts without the means to travel, I have put together a tasty recipe you could follow. Once you know how to make Uhm Ali, you will be able to feel like you are in the Middle East.
How to Make Uhm Ali
One of the most favorite desserts in the Gulf region which is the other version of Pain Perdu called the Uhm Ali. This recipe was originated in Arabia by the cook in a palace named Umm Ali. She came up with this recipe while she was about to throw away the leftovers, including bread and other desserts, and believed that it was a true success. To know how to make Uhm Ali, follow this easy recipe:
Ingredients (For 8-10 Persons)
Here is the list of ingredients:
1 pack of mille-feuille biscuits or 5 croissants (pick one-day-old ones for the dryness of the crust)
1/3 liter milk
1/2 cup cooking cream
1/2 cup sugar
1/2 teaspoon vanilla essence
1 teaspoon orange blossom water
1/2 teaspoon grounded misk (this is Arabia gum)
A selection of nuts (2 generous handfuls of the mix) pistachio, cashew, pine nuts, almond slivers, coconut shavings, raisins
Instructions
Here are the easy steps to follow:
Start by heating the milk and sugar with vanilla, orange blossom water, and misk. Do that on a very slow fire. Meanwhile, layer the biscuit immediately in your serving dish (best size is a round pie dish 25 – 30 cms in diameter)
Sprinkle half of the nuts in between the biscuits.
Once the milk is really hot, add the cream, stir for 3 minutes, then turn off the fire.
Pour slowly over the biscuits; try to hold them down until they soak, as they usually tend to float in the liquid.
Now add a dash of cream on the top (like a swirl). Sprinkle the remainder of the nuts.
Place in a hot oven for 20 minutes at 200 degrees. You can tell it's ready when the whole liquid has been absorbed, and the upper layer is crispy.
Remove from oven and let rest for 30 minutes before serving.
Enjoy warm, but not hot.
---
Tips in Making Uhm Ali Dessert 
Of course, desserts could never be made successfully without following some tips. Here are a few tips you can keep in mind:
For a lighter version, you can skip the extra cream whirl on the top.
The nuts can be assorted, where usually you can take what is available in your pantry. Here is an extensive list:

Pistachio, cashew, almond, and raisins for the real Arabian feel.
Dried apricot, walnuts, coconut shavings, dried cranberries, or Goji berries for a colorful mix.

If you are milk intolerant, try lactose-free milk. Otherwise, drop it because almond and coconut milk do not have the right texture for baking.
Millefeuille biscuits can be easily found in the supermarket. There are some great Italian brands (ironic right to use Italian biscuit in an oriental dessert), but there are the most presentable as a final product.
You can try with your old croissants but try to line up the dish in a neat way.
Conclusion
The Uhm Ali is mostly served at restaurant buffets during festive days. Learning how to make the Uhm Ali recipe is best when you share it with friends and family. It is as easy as making the usual dessert, so this is definitely worth the try. It will give you a chance to transport to the Middle East. Travel more to experience different kinds of delicacies.
---
About Author
Elise Sarkis- Talj has been living in Dubai since 1992. She is a Hotelier by trade and has worked in the hospitality industry for three decades.
Elise is a Certified Master and practitioner of ThetaHealing®, a graduate of THInK, USA, and also a Certified Integrative Nutrition and Wellness Coach, a graduate of IIN the Institute of Integrative Nutrition in New York. Visit livewitheez.com to try more of her recipes.