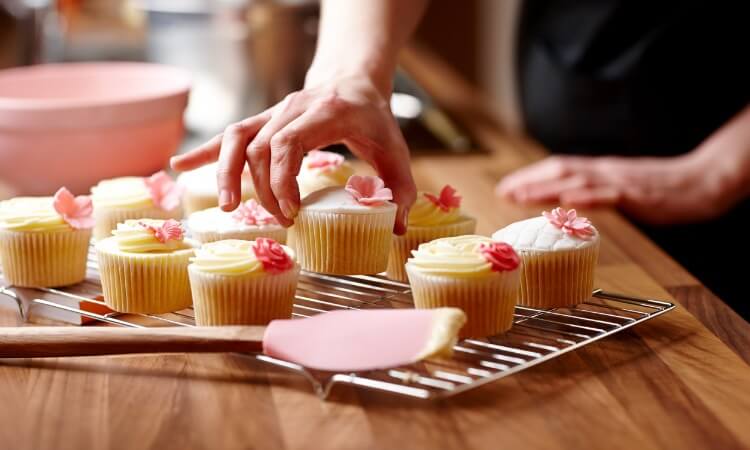 Cupcakes are delicious treats that have a slight edge on cakes because they're convenient to eat AND they're in single serving size already. So, if you want the sinfully decadent taste of a cake but want to ease the guilt by having them in cupcake sizes, you can use cake mixes for making cupcakes. But how long to bake cupcakes from cake mix do you need?
How Long to Bake Cupcakes from Cake Mix
It might be daunting if you've never tried it before. There are only two important differences between baking cupcakes and cakes that you need to keep in mind when it comes to how long to bake cupcakes from cake mix. First, the type of pan that you use. For cakes, you can use a variety of pans whether it's a sheet pan or a round tin, while for cupcakes, you can only use cupcake tins. Obviously cake pans hold a lot more batter compared to cupcake tins, so you need to be able to gauge the number of cupcakes you can make from a single mix. A mix for single-layer cake will make around 12-15 cupcakes while a mix for a 2-layer cake will make around 24-30 cupcakes.
Second, the amount of time that the batter will spend in the oven. Generally, cupcakes will bake faster than cakes by about a third, so if the cake recipe calls for 35 minutes, the cupcakes made from the cake mix will only take around 17 minutes.
Does the Type of Cake Mix Matter?
Cake mixes come in a variety of flavors, and the type of cake mix to make cupcakes that you choose will affect the quality of the cupcakes that you make from them. Here are some examples:
Pound cake – pound cake mixes make heavy and dense cakes, so this will also translate into heavy and dense cupcakes.
Sponge cake – while sponge cakes are fluffy and light, the mix tends to dry out too quickly when it is used to make cupcakes. What's more, the cupcakes tend to be flat because the batter won't have time to rise.
Cakes with yeast in the batter – cakes with yeast in the batter tend to have technical baking processes that are difficult to tweak for cupcakes, particularly for layered cakes.
Filled cakes – filling cupcakes is a tedious and time-consuming process, and you'll be better off just making the batter and skipping the filling. However, if you have a lot of time, you can still fill your cupcakes, but you'll probably end up with a lot of leftover filling.
The best type of cake mix that translates well into cupcake form are simple cake mixes such as yellow cake, white cake, or red velvet cake. When you think about it, these cake mixes can already be commonly found in cupcake form so it's not surprising that they can be used for making cupcakes on the fly.
A Step-by-Step Guide to Making Cupcakes from Cake Mix
If you're asking yourself, "can I make cupcakes with cake mix", here is a simple guide that you can use:
Preheat your Oven
Preheat your oven according to the recipe mix instructions, especially if you are using any of the cake mixes that translate well into cupcakes. Luckily, most cakes and cupcakes have the same baking temperature range of between 325⁰F to 375⁰F. If this is your first time trying to make cupcakes from a cake mix, keep an eye on the cupcakes to see if they are baking correctly.
If you're looking for a specific result with your cupcakes, you can tweak the temperature settings a little bit. For flat-topped cupcakes, bake them at 325⁰F. If you want the tops to be dome-shaped, increase the baking temperature to 375⁰F.
Make the Batter
At this step, you'll still adhere to the original recipe instructions so make the batter as directed by the recipe. If you plan to make a small batch of cupcakes, you can use half the mix if you also halve the other wet and dry ingredients accordingly.
Prepare Your Cupcake Tins
The type of liner that you use for your cupcake tins matters depending on the cake mix you use. For cakes with a fine crumb such as yellow or white cake, regular cupcake liners are fine. However, if you have a gooey or sticky cake mix, you need to use a greaseproof liner to prevent the cupcakes from sticking to the liner.
Fill the Wells
After placing a liner in each cupcake well, you can proceed to filling the wells. Fill up each well 4/5 of the way full as cupcakes expand during baking. However, if you're planning to make flat-topped cupcakes, you can fill them up to around ¾ of the way without the cupcakes spilling over during cooking.
Adjust the Baking Time
As mentioned above, cupcakes made from cake mix will cook faster compared to regular-sized cakes. As a rule of thumb, reduce the baking time by a third. However, this is not an exact science so keep an eye on your cupcakes at around the 15-minute mark onwards.
How to Tell if Your Cupcakes are Done
Can you make cupcakes from cake mix successfully? Here are some of the ways that you can tell that your cupcakes are done baking:
The Toothpick Test
This is the "classic" way of testing whether baked goods are done. Insert a toothpick in the middle or thickest part of the pastry and if the toothpick comes out clean, it is done baking!
The Top Is Springy
Gently press down on the top of your cupcakes. If it springs back up, it's done baking.
Use an Internal Thermometer
You can use a digital baking thermometer to take the internal temperature of your cupcakes. If the temperature registers between 210⁰F to 215⁰F, then your cupcakes are done!
Conclusion
Now you know how long to bake cupcakes from cake mix! Whether you're looking for a quick snack or you just want to flex your baking muscles a little, you can make delicious, moist, and fluffy cupcakes anytime with boxed cake mix. Always remember that this process will take a bit of trial and error in the beginning, so don't be discouraged if your first few attempts of baking cupcakes with cake mix aren't successful. Find out more about cupcakes.