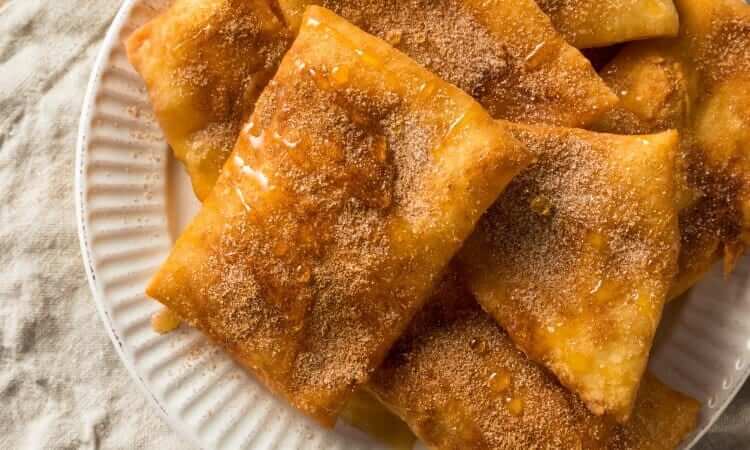 Whether you're celebrating Cinco de Mayo or any other Mexican holiday, you'll fall in love with these delicious and incredibly easy sopapilla cheesecake bars. Packed full of delicious flavors and plenty of cinnamon sugar from start to finish, this luxurious dessert is a guaranteed crowd-pleaser, believe me! 
What is a Sopapilla?
A sopapilla (or sopaipilla, sopaipa, or cachanga) is a fried dish that falls somewhere between a pastry and quick bread. It's served in multiple American regions with Spanish heritage. 
In New Mexico, they're usually made from pillow-shaped fried pastry dough and are served as bread to accompany other meals such as stews or saucy dishes. Alternatively, they can be filled with savory ingredients and covered with chile and cheese, which is served as an entrée. 
Sopapillas are also commonly eaten as a dessert, rolled in sugar and cinnamon, served with lashings of honey or anise syrup for a rich flavor that always impresses. 
Taking this dessert idea further is the sopapilla cheesecake. A glorious combination of the fried pastry sopapilla with luxurious American cheesecake: sopapilla cheesecake bars are surprisingly quick and easy to make. They are a fantastic way to celebrate Mexico's rich culture and cuisines in a tasty treat that forgoes the chili and spices often associated with Mexican dishes.
Below, we're going to share our favorite easy sopapilla cheesecake recipe with you, so that you can create these delicious bars of goodness from your own kitchen. This recipe uses flour tortillas as the base for the tasty treat, but you could also use crescent roll dough for a thicker cheesecake base. 
How To Make Sopapilla Cheesecake
Prep Time: 2 minutes
Cook Time: 8 minutes
Total Time: 10 minutes
Serves: 4
What you'll need: 
Large mixing bowl
A Comal for cooking tortillas (or a cast-iron skillet will suffice if you don't have a comal)
Ingredients: 
1 tbsp butter
4 flour tortillas (or make your own using the recipe below)
4oz cream cheese
¼ cup sugar
¼ tsp vanilla extract
1-2 tbsp pre-mixed ground cinnamon and sugar
Method: 
Mix the cream cheese, sugar, and vanilla together in a large bowl until light, fluffy, and well combined
Spread the cream cheese mixture over 2 tortillas
Place the 3rd and 4th tortillas on top of the creamy cheesecake filling to create a sandwich effect
Place your comal on a high heat and melt butter into the pan
Cut tortillas into quarters and press the seams together before placing them into the comal
Cook for 2-3 minutes on each side
The tortillas will turn golden-brown when they're ready
Remove from the comal and roll in the cinnamon/sugar mixture until completely covered
Serve the cheesecake drizzled with honey
How To Make Your Own Tortillas
If you want to really impress with completely homemade sopapilla cheesecake bars, then you could go a step further – make your own tortillas from scratch! Although this might sound challenging, tortilla making is an incredibly simple process and will create delicious tortillas that are way better than the ones bought from the stores! 
This recipe takes minutes to prepare and guarantees perfect tortillas every time.
What you'll need: 
Large mixing bowl
A flat, floured surface for kneading the dough
Parchment paper
Ingredients: 
4 cups white flour
1 ½ tsp salt
1 2/3 cups hot water
1 ¼ cups vegetable oil
Method: 
Add white flour and salt to a large mixing bowl and stir to combine
Add vegetable oil and 1 cup hot water and mix together using your hands
Keep mixing until all liquid has disappeared before adding the rest of the hot water
If you've added too much water or the dough is particularly sticky, add a little more flour to help absorb the liquid
Once all liquid has been absorbed, place your dough ball onto a flat surface covered with flour
Knead the dough until it becomes smooth
Divide the dough into 12 balls and ensure they have the same size
Prepare your tortilla press by laying parchment paper on either side
Place a single ball of dough into the center and close the lid tightly by pulling the lever
Once you've closed the lid, press it as tightly as possible, and open the tortilla press. Your now-flattened tortilla should peel off the parchment paper with ease
Repeat the tortilla flattening process until all of the dough balls have been transformed into tasty tortillas, ready to be transformed into almost any dish you can think of!