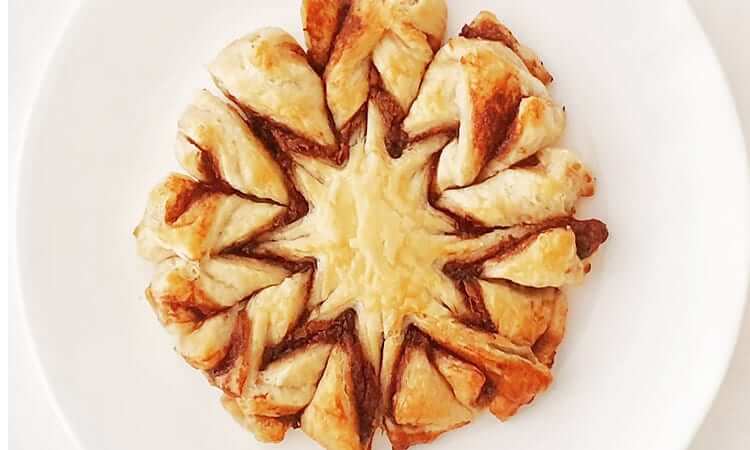 Who doesn't love Nutella? I bet if you could eat it every day, you would, right? And you will love it even more if it's paired with Prata. Are you planning on making one? Check out this easy-to-make braided Nutella star Prata puff recipe for you and your family. It may get a little messy, but do not worry, you will love its beauty.
What Is Prata?
'Roti Prata," also known as 'Roti canai', is a type of flatbread of South-Indian origin. It is made by frying a stretched dough flavored with ghee (an Indian clarified butter) or oil. 'Roti' means bread, and 'prata' means 'flat' in Hindi. Fish or mutton curry is usually served with it, or sugar for children who do not eat spicy food. They're also available in other savory variations, with onion, cheese, or strawberry filling.  
It's so well-loved by the locals in Singapore that frozen Prata is also available in supermarkets. Prata lovers just have to fry the frozen Prata in a pan for a few minutes at home.
There are many "food hacks" recipes in recent years, using frozen Prata instead of puff pastry to make tuna puff, egg tarts, or even pizza. Frozen Prata is super versatile and can be easily used as 'ready-made dough' to make pastry-like puffs or tarts. There's no limit to what it can use to bake. 
Check out the recipe and learn how to make Braided Nutella Star Prata Puff quickly and easily. 
For the braided Nutella star Prata puff recipe, you just need these two ingredients: 
Follow these super easy procedures to make braided Nutella star Prata puff:
Spread Nutella on one piece of frozen Prata. 
Layer the other piece of frozen Prata on top of it. 
Using a small cup to mark the center of the Prata. 
Leaving the center intact, divide the Prata into quarters start cutting from the marked circle. Then, cut each quarter again into four equal parts to have a total of 16 equal portions. 
Take two parts of the Prata in both hands and delicately twist them in opposite directions. Repeat with all pairs to form an eight-armed star. 
Bake in the oven at 180°C for around 20 minutes. 
Conclusion
So, whenever you have the urge to whip up something in the kitchen, this recipe is indeed super easy and fun to make. You should try making it for your family and friends, for your next party, or just simply to satisfy your sweet-tooth cravings. Learn about the best pie plate for baking.