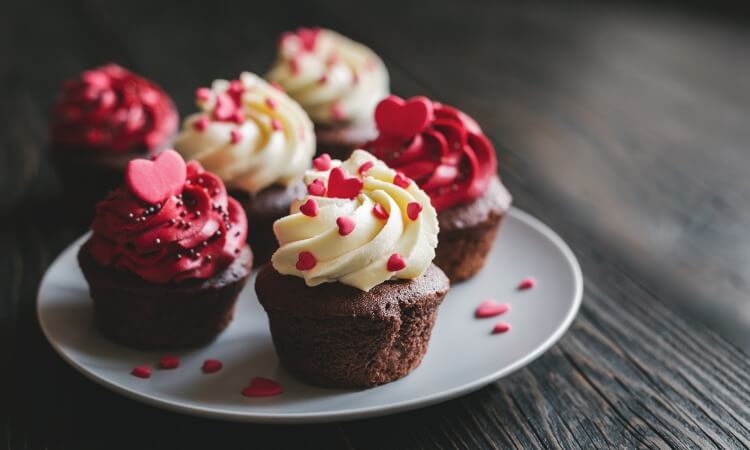 Cupcakes are easy to make and are much enjoyable with just the right amount of frosting in each bite. Cupcakes are wrapped with beautiful and neat paper cupcake liners. These liners help bake cupcakes and are easy to use. But what happens if you don't have cupcake liners, can you make cupcakes without liners?
Don't worry, because enthusiasts and bakers have natural substitutes for cupcake liners that won't affect the flavor or baking time. In this article, we're going to give you some tips on how to make cupcakes without liners.
Can You Make Cupcakes Without Liners
There are some simple ways to ensure that cupcakes don't stick to the pan. You can use store-bought cupcake liners or stainless steel cupcake tray, which comes in six-cup or 12-cup variations. Until adding the butter, the bakers can grease and flour the pans. You can also replace cupcake liners with parchment paper. You can also prevent the issue of cupcakes being sticky around the tray.
Tips and Tricks: Baking Cupcakes Without Liners
It takes a bit more time to get your pan ready. But you will be pleased to find out the answer to 'can you make cupcakes without paper liners. '
These tips will help you resolve the question – 'can you make cupcakes without liners?' as you prepare to bake your cupcakes.
Spray It
The baking spray is the best way to oil a cupcake tray equally. There are several forms of baking spray that you can purchase from flavored butter to olive oil and high heat spray.
Look for a spray explicitly for baking; usually, it would state baking on the can. Keep in mind that olive oil spray and high-heat sprays are more targeted for cooking applications than to baking. You probably don't want to taste cupcakes like olive oil.
Butter
Butter is also a preferred method of greasing a cupcake tray before baking. It tastes the clearest and delicious cupcakes. Butter may be a little more challenging to use with the baking spray because you need to attempt to get the butter in each cup's corner.
There are two options to achieve this: use a stick straight to the butter out of the refrigerator or heat the butter.
Oils
You may use a broad range of oils for grazing the cupcake tin for baking. Canola oil and vegetable oil are both staples and can give to the cupcakes little or no aftertaste.
Coconut oil is also good to bake with and can give your muffins or cupcakes a sweet tropical flavor. The method of prepping the pan is the same no matter what oil you pick.

If you decide to melt the butter, a pastry brush or paper towel is required to add the oil to your cupcake tray. Dip the brush or cloth into a little bowl of oil, then rub it over any cupcake tray.
How To Make Cupcakes Without Liners
If you're wondering, can you make cupcakes without liners? Here are some simple steps you can follow to bake cupcakes, even without liners.
Start with a clean cupcake tray, then spray every cup with a non-stick spray coating. If you don't have spray, then butter would also work.
Melt a couple of teaspoons of butter in a small mug or cup in the microwave to graze the cup. Then use a pastry brush to rub each cup's wall and bottom. Dip a paper towel into the butter if you don't have a pastry brush and grind each container with the paper towel.
Add the flour after every cup is coated. Sprinkle each cup around half a teaspoon of flour, shake the pan on the sides and bottom and place the cupcake tray over the drain to remove the excess flour.
Fill up the jar with butter around 2/3 of the tin cup. Once heated, a tin cup full of butter can leak and spill the butter over the cupcake tray.
If you're wondering, can you make cupcakes without liners? Here are some simple steps you can follow to bake cupcakes, even without liners.
How To Use Parchment Paper To Line A Cupcake Tray
If you'd like to have some filler instead of greasing the sheets, you can opt to cover the cupcake with parchment paper. The thin paper will feel like substitute pastry wrappers.
Split the paper into squares roughly 5 inches across.
Fill the cups with paper until you have circles sufficiently, centering the paper into each cup.
Push the paper to crease the parchment paper with tiny glass or bottle.
Fill each parchment cup with soft butter and bake as instructed.
If you ask, 'can you make cupcakes without liners?' the answer is yes. Parchment paper is safe in the oven and is sometimes used to line trays and sheets of cupcakes and cookies.
How To Remove Cupcakes From Pans Safely
When you prefer not to use or don't have liners, you may follow such guidelines for the perfect-looking cupcake results.
As you pull the cupcakes from the oven, check if they are thoroughly cooked through. Place a toothpick into the cupcake's core. If it comes out dry and clean, you've done baking your cupcake.
Let the pan cool down on a wire rack for at least 10 minutes before extracting the baked goods.
You may use a knife with butter to remove any cupcake from the oven.
Cover with a clean towel over the oven. Flip over the plate or cupcake tray. Your cupcakes will come out of the pan and slip into the sheet safely.
Can I Use Muffin Pan To Make Cupcakes Without Liners
Pans that are steel or silicone may be used to make cupcakes or even savory dishes such as bite-sized egg soufflé. Be sure to remember the pan sizes. Most cupcake recipes and baking times are written for use with a regular tray, containing between 1/3 to 1/2 cup of butter.

There are also mini tins containing about 1/4 cup of smooth butter in each container and large pans holding about 3/4 cup. Mini tins need slightly less preparation time, whereas larger tins of the cupcake can take longer. Be sure to check the recipe before choosing a pan.
Find more sweet treats and tips from our friends from Sinful Treats!
Conclusion
Cupcake liners may be needed to make cupcakes, but if you don't have one, you can do some tweaking. Like you have seen here, all it takes to bring the baked goods out of the tray is a little pan prep and a little skill. Now that we've cleared the question, "Can you make cupcakes without liners?" go back those cupcakes. Get more tips on baking cupcakes.